Shopping Basket
Your Basket is Empty
There was an error with PayPal
Click here to try again
Thank you for your business!
You should receive an order confirmation from Paypal shortly.
Exit Shopping Basket
| | |
| --- | --- |
| Posted on 6 May, 2015 at 3:05 | |
1,000 Microsoft Innovative Expert Educators Globally
300 selected to attend Microsoft's Education Exchange
87 countries represented at Microsoft's HQ
I am still coming to grips with being 1 of the 1,000 MIE's selected to attend the 2015 Education Exchange held by Microsoft in Seattle, WA, USA. Being a part of this truly prestigious group of educators gave me the responsibility to share the amazing works of all Australian educators as well as learn and explore the pedagogies taught at those schools globally.
'Bravery, Courage and Leadership'. This was the theme of the conference. The purpose of the theme is to not only remind us of our educational journey thus far, it is to remind us that we must continue to be on this journey and to extend ourselves in the same way that we would extend our students.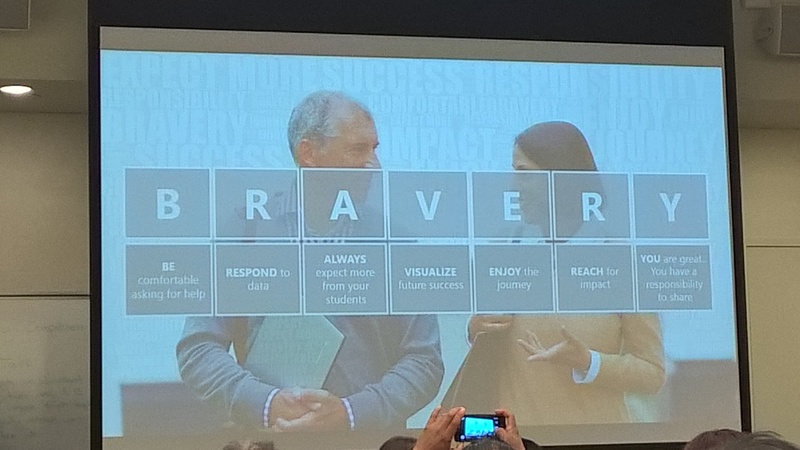 Yes, this conference was as grand as Microsoft's very own reputation. We were constantly engaged with an amazing introductory performance by the Drum Café as well as by listening to keynote speakers such as Anthony Sacito (Microsoft VP of Worldwide Education), Mr Ziauddin Yousafzai (Peace Prize Winner; Malala's father), and even gave us the opportunity to have an open chat with Mr Satya Nadella (CEO of Microsoft). These presentations were inspirational and heartfelt, and they certainly set the official tone of the Exchange.
A global Teachmeet was the first formal opportunity that we had to communicate and share our teaching experiences. Learning activities and more were presented and discussed. After speaking to many educators regarding their learning activities that were based on multimedia, OneNote, programming and more, it was clearly apparent that all of the teachers who were here, were deserving of this opportunity to attend the Exchange. The passion that every single teacher demonstrated when presenting their work was in itself inspiring. Learning activities that I was fortunate to learn about include:
Brazil - The fundamentals of using Minecraft and how it can be applied to any subject
Thailand - Collaboration through Sway and Powerpoint to create infographics in Food Technology
Egypt - Using Office Mix to explore how teachers can help mentally handicapped children become better learners with technology and other tools
USA - How to use Powerpoint to complete tasks in Genius Hour
Kazakhstan - Creating learning activities to develop critical thinking skills in developing the nations energy matters
I, myself presented on how to create Personalised Learning Activities by creating matrices that encompassed Blooms Taxonomy and Gardner's Multiple Intelligences. This electronic tool enables teachers to create Project Based Learning activities for their students to complete in a self paced learning environment. The learning matrix presents numerous types of tasks (which students select based on points/value and are required to complete 100 points of work) that students can complete to achieve overall learning outcomes. This is an ideal way to support students of all learning abilities and gives the teacher the flexibility to purely facilitate and assist students one-on-one within the classroom. My presentation can be accessed via: https://sway.com/1FEmbo6F3wMHqyfn
Throughout the Exchange, workshops by teachers were delivered on how they use Office and other technology tools in their classrooms. Every session delivered pragmatic solutions and resources that could be used in EVERY classroom regardless of language or culture. I was fortunate to learn about Skype Classroom and was quite impressed by the simplicity and usability of this tool. More so, the function of participating in a Mystery Skype was certainly of interest as it provides students from around the globe to meet and greet each other and learn about one another in a safe virtual world. This is certainly something I would like to try at least once in my classroom.
I was very fortunate to be invited to participate on a Panel (for 2 sessions) that would discuss how we use Minecraft in the classroom and how teachers could proceed with implementing it in their own schools. The Panel include myself and 3 other educators from Canada, Ireland and Brazil. I was very quick to discover that all of the concerns and questions that I possessed when setting up Minecraft in my own school was the same of all of these teachers from all parts of the world. Understanding that each school operates differently, I was able to provide them with my experiences and reassured them that embedding Minecraft and gamification into teaching and learning is possible to implement and effective in enhancing 21 Century Learning Dimensions. What I found most interesting, is that I was amongst the first to use Minecraft in curriculum based discovered that although many My experiences on using Minecraft in the classroom can be found at https://sites.google.com/site/minecraftrhhs/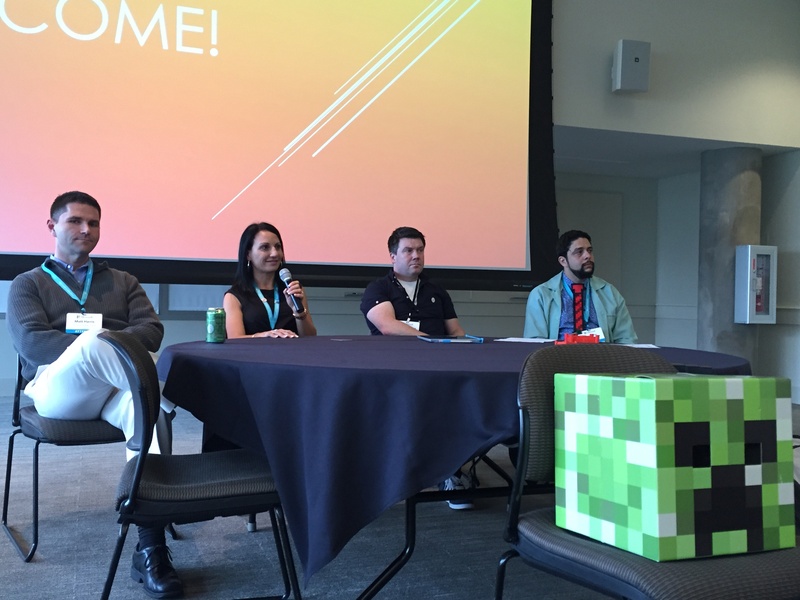 The Kent Tech Expo is one of the leading expos in USA around education. This Expo showcases the work created by students (by students). I have never attended such an experience before. There were well over 100 schools represented showcasing how they use different tools and softwares in their classrooms to develop their own learning and to enhance the learning of others. The one thing that struck me was the enthusiasm of those students presenting. These students were not the average students that I have in my classroom. They were a complete range of students, from those who were well spoken and extremely intelligent, to those shy and passive personalities who clearly know their work and but speak within the classroom. These students amazed me as they explained what they did in their softly spoken and innocent voices and made me realise that the theme of our conference had trickled down into these Technology Expo space.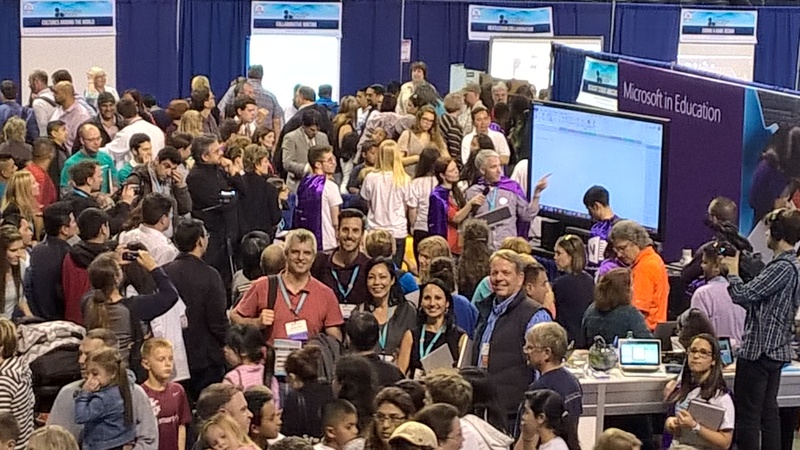 What is clearly apparent, is that Australia is one of the most innovative and advanced in the educational sector and we should be proud to share our work with our partners working in parts of the world. Yes, we have limitations that prevent us from doing our absolute best, but we all work in schools that have the students best interests at heart. We strive to continuously be innovative and model exemplary learning habits that our students begin to mirror. We are open to taking risks and will try anything at least once. Furthermore, this Exchange has given me a new voice to encourage more and more teachers to take risks as well as nominate them to showcase their work to the world.
To see the different perspectives from teachers on the Educator Exchange, please go to twitter and follow the hashtag #MSFTEduE2
Categories: 2015, Microsoft, Professional Learning
/