Shopping Basket
Your Basket is Empty
There was an error with PayPal
Click here to try again
Thank you for your business!
You should receive an order confirmation from Paypal shortly.
Exit Shopping Basket
| | |
| --- | --- |
| Posted on 22 February, 2013 at 20:55 | |
Defining Critical Thinking
Defining Critical Thinking is quite perplex. There are variations of definitions, some of which include specific terminology whereas others do not. Some such as Shanaz, Profetto-McGrath, Gul, Ashraf and Kauserall (2012) go further and state that educators quite easily confuse critical thinking with other terms such as 'Problem Solving', 'Decision Making', 'Creative Thinking', and 'Evidence Based Practice'. This suggests that 'critical thinking' is more complex to those terms stated above.
It is agreed by educators that critical thinking is a central educational theme in the classroom (Saade, Morin, Tomas, 2012) and that critical thinking is a process that includes reasoning, problem solving and decision making skills to search for information that will enable us to yield more productive results (Saiz & Rivas, 2011). Critical thinking skills entails the ability(ies) of mental processes of discernment, analysis and evaluation applied to information in order to achieve a logical final understanding and/or judgement (Saade, Morin, Tomas, 2012). Stanton, et al, (2011) extend on this and state that critical thinking skills are likely to include iterative and cyclic activities, such as problem solving, development of competing hypothesis, calculating probabilities and making decisions.
Thus critical thinking is regarded as the most important skill in order to discern false, incomplete, obsolete information (Saade, Morin, Tomas, 2012) and a skilled critical thinker is the one who can acknowledge the difference between logical reasoning and personal opinion (Saade, Morin, Tomas, 2012).
Critical thinking stems from the ability of higher-order-thinking which has been linked to deep learning (deep learning can be defined as the intention to extract meaning which produces active learning processes that involve relating ideas and looking for patterns and principles on the one hand and using evidence and examining the logic of the argument on the other (Saade, Morin, Tomas, 2012). This also suggests that different learning activities lead to different levels of critical thinking (Saade, Morin, Tomas, 2012) which must be considered by educators in creating programs and developing classroom content.
So who are Critical Thinkers?
Branch (2000) states that individuals who attain the power of critical thinking are curious, open minded, systematic and analytical, they have self-esteem and are willing to search for the truth' whereas, Demir (2011) states that critical thinking is not a random style of thinking, that those individuals with critical thinking need to examine the reasons of problems in depth, try to understand, oppose when needed and be able to look at occurrences without obsession and objectivity.
Critical Thinking and Learning
As critical thinking is at the core of most intellectual activity that involves students in learning to recognise or develop an argument, use evidence in support of that argument, draw reasoned conclusions, and use information to solve problems, educators can use tools such as promote interpreting, analysing, evaluating, explaining, sequencing, reasoning, comparing, questioning, inferring, hypothesising, appraising, testing and generalising (National Curriculum, 2013).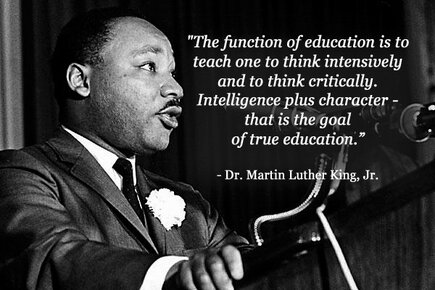 /