Shopping Basket
Your Basket is Empty
There was an error with PayPal
Click here to try again
Thank you for your business!
You should receive an order confirmation from Paypal shortly.
Exit Shopping Basket
| | |
| --- | --- |
| Posted on 12 August, 2018 at 21:05 | |
Glenwood High School was selected to participated in the Minecraft Education Edition pilot program by the NSW Department of Education in 2017. The program will see 30 Year 10 students learn curriculum content using Minecraft Education Edition during class time.
More specifically, students created a new suburb for the Stage 5 Geography topic 'Urbanisation'. 10 HSIE 2 was fortunate to participate in the MEE trial under the supervision of Ms Callaghan. 
There are numerous benefits of using game-based learning in class to facilitate teaching and learning. At Glenwood High School, Minecraft was able to;
give students the freedom to create, pushing their imaginations to the limit and allowing them to be creative in ways not possible in the real world.
inspire students' higher-level, problem solve and think critically.
Minecraft is also a very social game, where students can rely on other players for help in the sometimes-unforgiving Minecraft world. When students work together, it builds positive classroom climate, teaches the benefits of collaboration and facilitates teamwork in a way that's more organic than, say, being assigned to work together on a project. Students who might not get along in the real world can become allies in the Minecraft world.
| | |
| --- | --- |
| Posted on 1 December, 2015 at 22:10 | |
As our school year comes to an end, we are delving more into Minecraft. To complete our Minecraft community, we built a church. Please watch this time lapsed documentary of students collaboratively building their church;
| | |
| --- | --- |
| Posted on 23 November, 2015 at 17:50 | |
My 7E TAS class have been working tirelessly this semester in designing their dream homes using a Project Based Learning (PBL) pedagogy. Students learned how to incorporate the Design process to design their house. Students needed to consider the location of where to build their house, what resources are available there to build the house, considerations of natural disasters and climate.
Students then designed their house using CAD software - Google Sketchup. Once this was complete, students would build their house in Minecraft Edu to determine if their designs are feasible. Students can go back to to Google Sketchup and make the necessary modifications to ensure that their build is representative of their designs.
Here is a video of the final work created by students:
| | |
| --- | --- |
| Posted on 18 November, 2015 at 20:15 | |
Students have been meeting as part of Minecraft Club twice a week. This club is student-run and my only role as the educator is to ensure that all students are positively contributing to the build of the game.
To celebrate the work that we did this year in our Minecraft Club "Minecraft 4 Me", students made a video highlighting their best achievements;
| | |
| --- | --- |
| Posted on 5 June, 2015 at 0:50 | |
This week, I have used Minecraft quite a lot in my TAS class. The experience has been incredible and has further taught me the arts of flexibility, creativity and patience. 
Feel free to view the blogs by myself and by myself students at our blog page: callaghan-minecraft.blogspot.com.au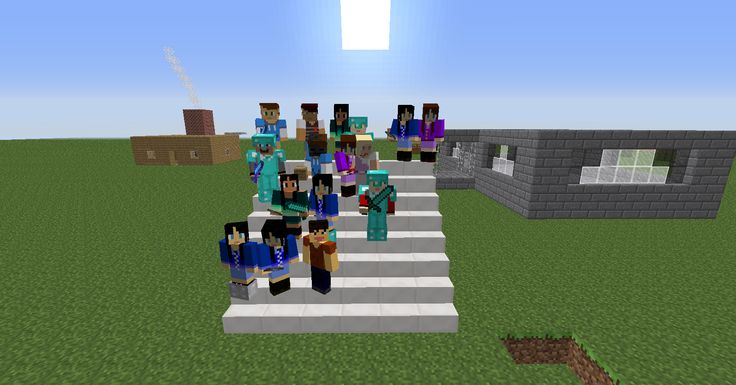 | | |
| --- | --- |
| Posted on 21 May, 2015 at 21:20 | |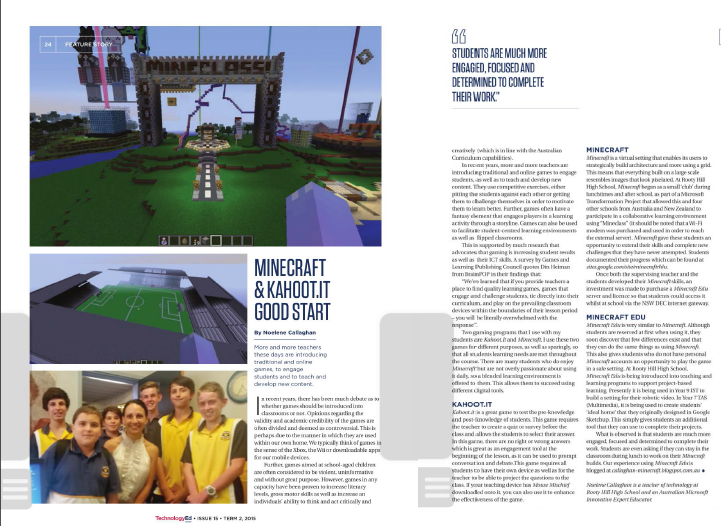 | | |
| --- | --- |
| Posted on 14 May, 2015 at 19:05 | |
The work that we are doing with Minecraft is now becoming widely followed by educators globally. My students and I are documenting what we do to inspire other schools to take up this initiative. All of our blogs can be found at http://callaghan-minecraft.blogspot.com.au/
| | |
| --- | --- |
| Posted on 6 May, 2015 at 3:15 | |
It has been six months since the implementation of Minecraft and after showcasing the efforts of my students in terms of Mineclass and Minecraft Edu as well as those efforts by other Australian and New Zealand Mineclass participants, it is time to open both Minecraft based programs to all students within my school.
However, this is not as simple as making a general announcement during assembly asking students to come and see me if they are interested in participating. Opening up this program to the students at my school could actually create hysteria which must be planned for. The main issues that I face include 'space'. Where do I hold meetings for this group. I am anticipating that over 500 students will initially want to participate in the Minecraft club and trying to accommodate them in one area will be rather difficult. I know that this is not necessary, however, the overall goal for this is to have a student led group and in order to learn as much as I possibly can, I must immerse myself in the virtual space with them physically near me so I can develop my own thinking and understanding of what game play is taking place.
The other main issue that I have to overcome at my school is determining accessibility. Many students do not have internet access at home nor do they possess a windows based device. Students rely on free wifi access from the local library or businesses and many use Chromebooks which prevent students from downloading and installing applications. Creating an equitable environment is pivotal to the success of this at Rooty Hill High School.
Thus, with this in mind, I will move forward by communicating with teachers and students and together we will determine the most appropriate steps to proceed.
| | |
| --- | --- |
| Posted on 12 April, 2015 at 1:45 | |
In recent years, there has been much debate as to whether games should be introduced into classrooms or not. Opinions regarding how the validity and academic credibility of the games are often divided and deemed as controversial. This is perhaps due to the manner in which they are used within our own home. We typically think of games in the sense of the Xbox, the wii or downloadable apps for our mobile devices.
Further, games aimed at school age children are often considered to be violent, uninformative and without great purpose. However, games at any capacity have been proven to increase literacy levels, gross motor skills as well as increase an individuals ability to think and act critically and creatively (which is inline with the National Curriculum capabilities).
In recent years, more and more teachers are introducing traditional and online games to engage students as well as to teach and develop new content. They use competitive exercises, either pitting the students against each other or getting them to challenge themselves in order to motivate them to learn better. Further, games often have a fantasy element that engages players in a learning activity through a storyline. Games can also be used to facilitate student centered learning environments as well as flipped classrooms.
This is supported by much research that advocates that gaming is increasing student results as well as their ICT skills. A survey by Games and Learning Publishing Council quotes Din Heiman from BrainPOP in their findings that;
"We've learned that if you provide teachers a place to find quality learning games, games that engage and challenge students, tie directly into their curriculum, and play on the prevailing classroom devices within the boundaries of their lesson period – you will be literally overwhelmed with the response".
Two gaming programs that I use with my students are Kahoot.It and Minecraft. I use these two games for different purposes as well as sparingly so that all students learning needs are met throughout the course (there are many students who do enjoy Minecraft but are not overly passionate on using it daily, so blended learning environment is offered to them. This allows them to succeed using different digital tools).
Kahoot.it
Kahoot.it is a great game to test the pre-knowledge and post-knowledge of students. This game requires the teacher to create a quiz or survey before the class and allows the students to select their answer. In this game, there are no right or wrong answers which is great as an engagement tool at the beginning of the lesson as it can be used to prompt conversation and debate.This game requires all students to have their own device as well as for the teacher to be able to project the questions to the class. If your teaching device has Mouse Mischief downloaded onto it, you can also use it to enhance the effectiveness of the game.
Minecraft
Minecraft is more than a game for boys. It is a virtual setting that enables its users to strategically build architecture and more using a grid. This means that everything built on a large scale resembles images that look pixelated. At Rooty Hill High School, Minecraft began as a 'club' that a small number of students participated in during lunchtimes and after school. This began as part of a Microsoft Transformation Project that allowed this and 4 other schools from Australia and New Zealand to participate in a collaborative learning environment using "Mineclass*" (it should be noted that a wifi modem was purchased and used in order to reach the external server). Minecraft gave these participating students an opportunity to extend their already mastered skills and complete new challenges that they have never attempted to complete before. This group of students documented their progress which can be found at https://sites.google.com/site/minecraftrhhs/
Once both the supervising teacher and the students developed their Minecraft skills, an investment was made to purchase a Minecraft Edu server and licence so students could access it whilst at school via the NSW DEC internet gateway.
Minecraft Edu
Minecraft Edu is extremely similar to Minecraft. Although students are reserved at first when using it, they soon discover that few differences exist and that they can do the same things as using Minecraft. This also gives students who do not have personal Minecraft accounts an opportunity to play the game in a safe setting. At Rooty Hill High School, Minecraft Edu is being introduced into teaching and learning programs to support project based learning. Currently it is being used in Year 9 IST to build a setting for their robotic video. In Year 7 TAS (Multimedia), it is being used to create student's 'ideal home' that they originally designed in Google Sketchup. This simply gives students an additional tool that they can use to complete their projects.
What is observed is that students are much more engaged, focused and determined to complete their work. Students are even asking if they can 'stay in the classroom during lunch' to work on their Minecraft builds. Our experience using Minecraft Edu is blogged at http://callaghan-minecraft.blogspot.com.au/
*If your school is interested in participating in Mineclass, please go to www.mineclass.org for more information
| | |
| --- | --- |
| Posted on 31 March, 2015 at 6:45 | |
Today will forever be known as the day that would determine whether all of the hard work that I had been putting in to creating a new pedagogical environment would be a viable teaching and learning environment for Rooty Hill High School.
The new era of learning that commenced today incorporated the use of virtual learning environments, specifically Minecraft. My Mini ME's (Mini Microsoft Experts) and I have been working this year on learning how to create educational challenges in Mineclass (for more information, please go to www.mineclass.org) and learning how to transfer this knowledge to creating a server for use within our own school as well as applying this to our new Minecraft Edu server. With the help of our technology staff and our Technology Support Officer (TSO), this was all possible. The process of how Minecraft Edu came alive has been documented and can found at https://sites.google.com/site/minecraftrhhs/ (Mineclass is a Transformation Project initiated between Microsoft and 5 Australian and New Zealand schools).
My pedagogical approach in the space of technology is that a blended learning is the best fit model that supports the learning of all students regardless of background or ability level. This is particularly important for those 'mixed' classes where students of various abilities are grouped in the one classroom environment. Today was no different to my approach of introducing students to Minecraft educationally.
Students in Year 9 whom are currently studying Information Systems and Technology (IST) are currently completing Project Based Learning that focuses on the creation of a Robotic Guide Dog. This robot can be targeted at any demographic with any disability (at the student groups discretion). Todays incursion was aimed at providing these students with new resources (primarily Minecraft) that they could use to complete their projects this year.
At 8.45am, students met me at the Canteen steps. The fact that we were on an 'incursion' and not an 'excursion' contributed to the negative feelings that students already possessed. I was already facing a battle and I hadn't even said 'hello' to them yet. I gave each student a contract and explained its contents. Students were given the option to sign the contract and participate in the day. If they decided that they didn't want to abide by the rules, they could simply go to the office and ask for their parents to be contacted and have them collected from school. I left the students at the Canteen and walked to my classroom hoping that all would soon follow. Fortunately, every student signed the contract and entered the classroom. Upon their entry to the classroom, their contracts were taped to the whiteboard. I too signed a contract and this was also added to the wall of contracts.
The activities of the day was delivered via a Sway that I created (and can be accessed at https://sway.com/J_kVxq3SBUa6qwBj ) Students have never seen a Sway before, so this was a great way to get them engaged quickly. We began the day by watching a series of animations created on Go Animate and YouTube clip on Robotic Guide Dogs followed by a discussion and a Think Tank on what the key features and the implications could be when designing a Robotic Guide Dog. Students were then encouraged to photograph their work as evidence.
This activity was then followed by a game of Kahoot.it. This a great activity that encouraged students to re-evaluate their initial thoughts about the Robotic Guide Dog and prompted more great conversation about what attributes their robot should contain.
After our first break, each student created a Google Site. Each site contained 6 pages namely; Home page, Do Now activity, Diary entries, Multimedia Project, Promotional Activity and Minecraft. Each page would be filled with information and/or photographs from throughout the day. We then completed a literature review of articles of robots and the use of robotics for personal and business purposes. This review was added to our Diary page (on our google site).
Once the formalities were completed, it was time to begin playing on Minecraft Edu. Students were required to demonstrate their technical abilities of installing the software and launching it. For many students, this was the first opportunity that they had to do such a task. For these students, this task alone was an absolute milestone.
As students were installing Minecraft Edu, I ascertained which students considered themselves as 'Jedi's' (experts in the area of Minecraft) and those as 'Newbies' (have never played on Minecraft before) and allocated a worksheet that would support their level of play. Many other resources such as recipe cards, how to maneuver within Minecraft etc were dispersed to students. At first students felt a little overwhelmed by all of the material, but it was quickly dispelled once they started playing. Within minutes, the atmosphere within the classroom changed. There was no longer a sense of competition between students as to whom had produced the best website and there was no longer a challenge of who knew more. They were working together. As equals. Moreover, even when it was time for students to go on a break (when the bell went), nobody moved. I genuinely don't think that they even heard the bell. Students continue to build and play and help each other in the Minecraft Edu space for the next 90 minutes. All conversations that I overheard was directly related to the task at hand and every know and then I could hear cheers and squeals of elevation, particularly from those female students who were initially dubious of playing. They were so proud of themselves that they could not only fly, but they were building things. Structures. Structures that were relevant and could be used in their set of creating robotic guide dogs.
Throughout the play portion of the day, students were encouraged to communicate with members of their team about the requirements needed to support their project, document their actions in their Google Site diary, take screenshots (or use F2) and even download Snag It and use it to record themselves (which in some instances was also uploaded to their Google Sites). These activities enabled students to make the necessary connections with the content that was learned this term and the new activities experienced today.
The hardest part of today was asking students to pack up as it was time to go home. Asking all students to uninstall the software (again, students have not completed this task before), review their websites, discuss the future direction of their projects was a really inspiring activity as the growth of students technologically was clearly evident. Many had learned and experienced so many new things in just one day whereas others were able to share their expertise that they may have not normally been able to do.
Today is certainly a milestone for myself and for Rooty Hill High School and the start of our pedagogical outlook and new club - Minecraft 4 Me (named after our ICT4Me BYOD program)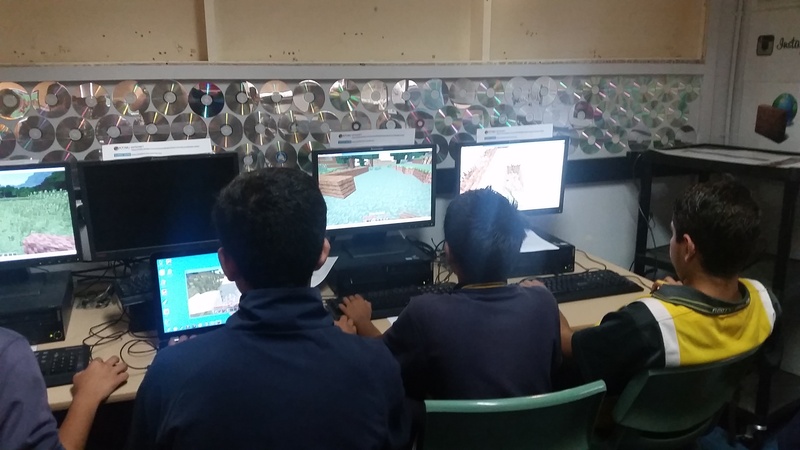 | | |
| --- | --- |
| Posted on 15 March, 2015 at 4:35 | |
I have spent the last 2 days attending the ICTENSW 2015 Annual Conference and in addition to learning new and innovative concepts that I will certainly use within my own classroom and (if possible) school, I also learned a great deal about Minecraft. Moreover, I met some incredible people who already use Minecraft to support existing curriculum.
These individuals have provided me with great insight as to how to plan and implement new teaching pedagogies using Minecraft and how to create a new server within my school (whilst still participating in Mineclass) to engage more students at RHHS. I have learned how to encourage students to use Python and Scratch to use code to create and computate data in the space of Minecraft.
Whats next?
1. First step though is to keep our Mineclass team going and to blog our activities as much as possible.
2. Plan and program the purpose and learning activities of having Minecraft within the school as a teaching and learning resource
3. Set up an internal server and test it
4. Work out the rest of the plan
| | |
| --- | --- |
| Posted on 23 February, 2015 at 16:35 | |
The Famous 5 have officially launched Mineclass and what is more fabulous than the commitment from these 5 teachers from Australia and New Zealand is that we, as teachers are MUCH more excited that the students who are in our teams.
Sir Matt Richards has created a new OneNote that will be used for administration purposes and all of our personal documentation in order to successfully run this program will be included in this collaborative document so that if we ever dig ourselves into a hole and can't get out (Jodi), the others will know where we are up to and be able to carry on with our Minecraft Jedi's.
Our objectives as Leaders of this Transformation Project are to enhance the 21st Century skills of our students in addition to develop their minecraft skills by setting challenges that students are to complete.... as a team. This Digital Citizenship experience will not only help students be a part of a new team within their school, it will build friendship in virtual communities and allow us, as teacher leaders, to develop new pedagogies that embrace the technological components that Minecraft has to offer. This will certainly be identified later as we hope to see students develop scripts using java and other coding languages that replicate what those professionals at large technological corporations are creating. This is just one of the higher order computational skills that our students will learn and develop.
Why are we doing this? We want our students to become the best 21st century learner that exists. We want them to learn open source learning platforms and utilise such tools so that future generations of students can not only learn these same skills but create something even more innovative and take even more risks that all educational boundaries are broken/dismantled/demolished. Lets help make those walls disappear into thin air and create a new world of learning that hasn't even been documented yet.
Mineclass......lets be the Gold of the educational world!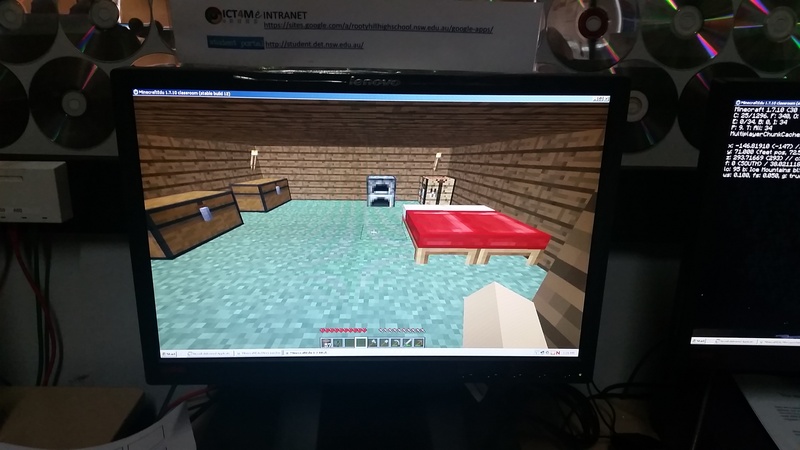 /