Shopping Basket
Your Basket is Empty
There was an error with PayPal
Click here to try again
Thank you for your business!
You should receive an order confirmation from Paypal shortly.
Exit Shopping Basket
| | |
| --- | --- |
| Posted on 6 September, 2012 at 5:40 | |
In preparation for my PhD, I have begun immersing myself in literature and new research regarding the latest developments and theorems surrounding the use of social media in an educational context. There are so many people attempting to define social media and trying to include every facet in relation to this definition, where in reality, this cannot be achieved. As we all know, any technological device, whether it be a pc, mobile phone etc that are state-of-the-art today will be out of date and possibly even redundant tomorrow. Social media is exactly the same. Publications written 5 years ago document that Facebook is inferior to MySpace and the like. Today, undoubtedly, Facebook is the number 1 social media website in the world. 
Further to defining this paradigm, many have attempted to either discuss the successes or failures of using social media in the classroom. Unfortunately, many of these have an underlying message of using iPads, mobile devices, looking at privacy issues, and thus do not provide a clear finding on whether social media can be used pedagogically.
I continue my journey to finding up-to-date information about the use of social media and it's use in a high school (and where possible), in australa. 
| | |
| --- | --- |
| Posted on 2 September, 2012 at 20:05 | |
Using social media in the classroom seems like a giant leap for many teachers, however, it is a technology that is already embraced by teenage students and is extremely easy to use to support the teaching and learning of any content area.
Using edmodo, blogster, twitter and even QR Codes will not only increase the motivation, engagement and participation of students, but will lead to an increase of understanding of subject content.
It was found in a recent research study that students who used multiple types of Social Networking Sites to complete their work were more successful at completing their work and felt that they 'learned more' using these technologies. This study was conducted in a NSW DET school and required the teacher to 'tweet' her students the URL of the Social Media Site (edmodo) that was to be accessed to download the classwork. Students received the tweet via their phones/tablets and were able to use their phones or tablets to complete the class work. The study saw students upload their completed work and contribute to the blog by reflecting on their lesson.
This study also found that there was very limited Net Lingo (sms talk) used when using these mediums and that students overall communicated correctly and effectively. More importantly, there was no evidence of any cyberbullying.
If there is restricted access on these sites at your school, effective social media lessons can still be created and used. Using Maang or Blog Ed is a great gateway to train your students how to use Social Media correctly and provides you, the teacher, with full access and control over the lesson. These sites combined with Moodle or any other site that your school currently uses will help you work towards creating innovative digitalised lessons.
| | |
| --- | --- |
| Posted on 23 August, 2012 at 22:40 | |
I feel as though I have been beating my head against a wall as I have based my short (yet comprehensive) research career on the skills set that students already possess. My research based on using Social Networking Sites in the classroom was based on the notion that students could use the skills that they already use at home whilst on Facebook, YouTube, twitter etc and use them in an educational setting via Ning. This proved successful as my research found that this is exactly what happened.
This term, I decided to use Moodle as the sole tool that my year 7 students were to use in and outside of class. The school that I am at use Moodle 2.0 and after I created accounts for all 200 students and enrolled them into my subject, I quickly noted that half of year 7 students knew how to use the Chat feature of Moodle, and were not shy of even sending me a message. They all uploaded avatars or their photo and had all customised their pages to suit their own personalities. This was all done before I even had a chance to give them a quick tour of Moodle.
These same students who last term found it difficult to send an email with an attachment were not only accessing information via moodle, but are now uploading files as well as completing online quizzes as part of their self evaluation. Even more interesting (yet concurring with my own research findings) is that most students are doing these tasks at home - that is, outside the classroom.
Transferability of skills? A willingness to use IT to learn?
ABSOLUTELY!
| | |
| --- | --- |
| Posted on 22 August, 2012 at 8:40 | |
A must for all teachers!
Make sure your computer is attached to the Internet and then setup an ad-hoc wireless network from your computer (for instance, instructions for a Mac can be found at http://www.dummies.com/how-to/content/how-to-set-up-an-ad-hoc-wireless-network.html ). It is not essential to setup an adhoc network because in some cases you can simply just run off a wireless network available in the room where you will be presenting. However, I recommend setting up an ad-hoc network with Internet sharing from your computer because this safeguards you against third-party wifi or firewall issues.
Turn Internet Sharing on so that your ipad will be able to use your computer for Internet access (see http://osxdaily.com/2012/01/05/enable-internet-sharing-mac-os-x/ ) and note that I often have to select a different channel such as 1 or 6 to get Internet Sharing to work for me.
Download an Airplay application such as Reflection App (http://www.reflectionapp.com) or Airserver (http://www.airserverapp.com) and install it on your computer. Note that Airserver runs Keynote more intuitively than ReflectionApp.
On your ipad (V2 or V3 only) double-click on the menu button and scroll the dock one screen to the left to access the general controls. From here you should be able to access a little airplay button and you should be able to select your computer. Make sure that mirroring is set to "On". You should be streaming the audio-visual from your ipad to your computer.
Plug your computer into a data projector (via the video out port) and speakers (via the headphones port, say) and now everything from your ipad should be received by the audience via your computer.
| | |
| --- | --- |
| Posted on 22 August, 2012 at 8:35 | |
On July 28th, we celebrated our 50th Anniversary once again with all of our ex-teachers and ex-students with a reunion dinner. I feel so proud to be involved in something so significant to so many people!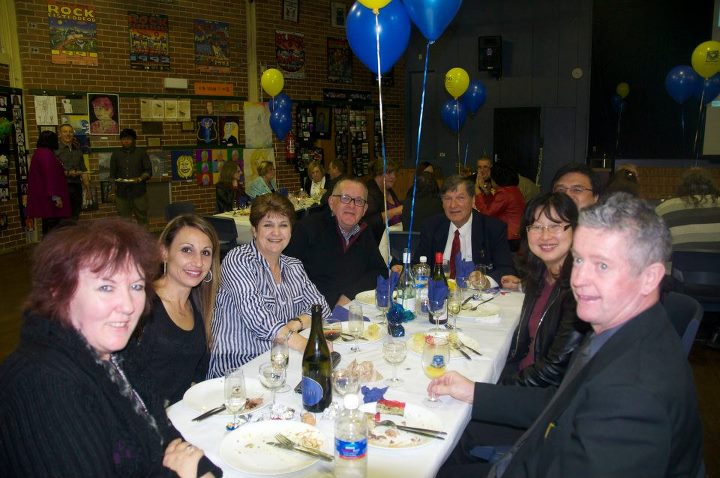 | | |
| --- | --- |
| Posted on 22 August, 2012 at 8:20 | |
Although social media (Facebook, linked in and twitter) played a MASSIVE role in finding the 5,000 students who once attended my school, there was nothing digital about our celebrations which embraced fashions from all of the decades with great style and flair.
| | |
| --- | --- |
| Posted on 22 August, 2012 at 8:15 | |
| | |
| --- | --- |
| Posted on 22 August, 2012 at 8:15 | |
| | |
| --- | --- |
| Posted on 22 August, 2012 at 8:15 | |
| | |
| --- | --- |
| Posted on 22 August, 2012 at 8:10 | |
| | |
| --- | --- |
| Posted on 22 August, 2012 at 8:10 | |
In May, I discovered that my Research Findings were to be presented at the 2nd annual Social Media in Higher Education Conference on 26-27 June 2012 @ the Radisson Blu Plaza Hotel, Sydney (by Keynote Speaker) . Very impressed with myself!
| | |
| --- | --- |
| Posted on 22 August, 2012 at 8:05 | |
In an effort to consolidate my digital footprint (in a much more sophisticated way than I am able to consolidate my debts or personal items), I am manually moving everything from my original blog (http://noelenec.blogspot.com.au to here. Lets hope this works and that I dont lose my patience too quickly!

0

/